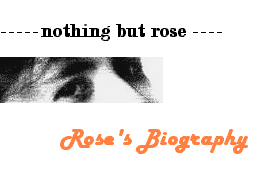 In the process of making Rose's biography, I have decided to write a piece of her biography each week or month. Her life was very extensive and someone would be very good to paraphrase her life in a few paragraphs. Though I write this biography, I got my information from William Holtz's A Ghost in the Little House: A Life of RWL. If you would like to include this biography in your Rose site or section, please E-mail me. Please note that this biography is based on true life events, not the events that happened in the Rose Years Series.
---
Rose Wilder, 1886 - 1894 --- On a cold, December night in Dakota, late in the year 1886, Mrs. Almanzo began to give birth to her first child. Mrs. Wilder's mother helped deliver Rose and knew her new granddaughter was very gifted.
The Wilders named the baby girl, with pink cheeks, Rose. "A Rose in December is more unusual than a Rose in June," is what the Wilders said. The baby had no middle name.
At age three, while helping 'Mama Bess', Rose accidently caught the house that the Wilders had built with the stove. The Wilders were also mourning the death of their second child twelve days earlier. Discouraged by health, drought, and child death, the Wilders retreated to Westville, Florida; the home of Mrs. Wilder's cousin.
While still in Dakota, the prospect of Florida seemed good for Mr. Wilder, who was partially crippled with diptheria. But in Westville, Laura detested the bugs and the people. She kept a small pistol around with her in her pocket. (To read about Rose's story 'Innocence', click here)
Returning back to DeSmet, the Wilders hear from many friends of the Land of the Big Red Apple also known as the Missouri Ozarks. A good friend, George Cooley was one of the men who brought Laura a large, juicy-looking apple. That is how the Ozarks got its name from the Little House fame.
Growing up on Rocky Ridge, Rose found farmlife very dull and often felt she was a 'slave' to her parents. On a visit to the Wilder farm in 1903, Aunt Eliza, Almanzo's sister, suggested Rose attending Crowley High School. The Mansfield school only went up eighth grade, while CHS allowed its students to get a complete education.
As she enrolled at CHS, the dean asked Rose her requirements. The last on his list was if Rose had taken Latin in Mansfield. So in order for Rose to have graduated within her age level, she had to learn three years of Latin in just one school year.
While in Crowley, Rose didn't always work on her studies. She was courted by a college man, but it is unclear of his name. Also, she helped her aunt, EJ, with flyers for the new political party, the Socialists. They promised rights for women, and many more ideas that appealed to the people of that day.